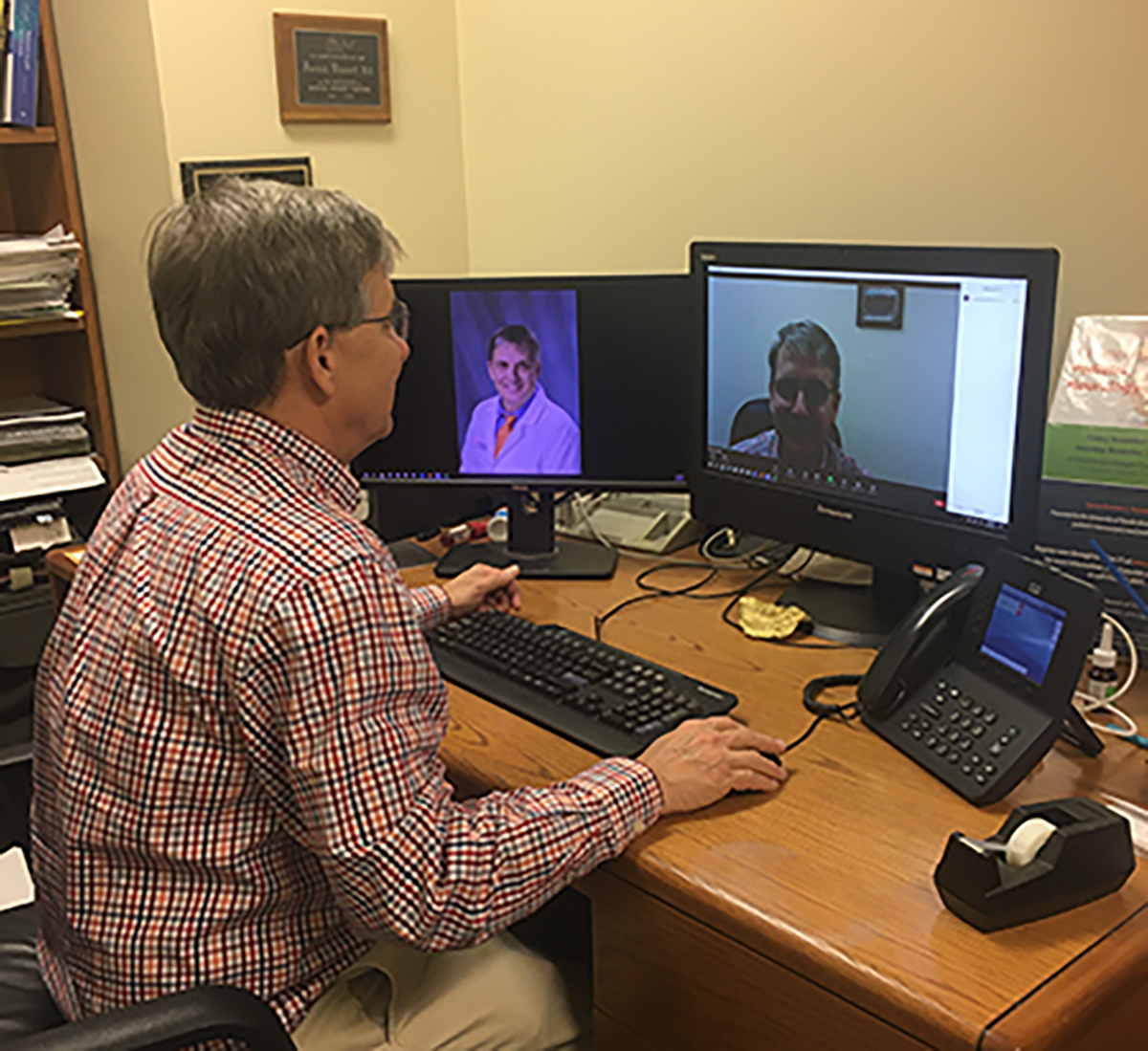 Precision Ketogenic Therapy and Telehealth
Telehealth Became Essential During COVID-19
From 1995 through 2019, the University of Florida PKT program conducted most activities in-person. During the COVID outbreak, we started incorporating more PKT activities via telehealth. There will always be times when a physical examination or certain procedures require an in-person visit, however, we found that most PKT activities can be conducted via telehealth for both pediatric and adult patients. Several medical centers found that ketogenic therapy for epilepsy can be successfully administered using telehealth (1, 2). To make the transition from in-person to telehealth, everyone had to learn how to use online software and adjust to the new way of conducting PKT activities.
PKT Tele

health Today
Many of us approached telehealth as a stopgap measure to get us through the pandemic. In the process, we discovered a significant list of advantages to telehealth.
Travel: patients with mobility issues and those who live long distances from our clinic, found telehealth greatly reduced the stress and the hassle of a PKT clinical visit
Patient Comfort: we observed patients, who we used to see in an uncomfortable exam room, after a long tiring trip to the clinic, and after being examined by strangers, acted completely different from the same patient resting comfortably in their own home.
Recipe Preparation: during initiation of PKT, caregivers prepared recipes that were new and different in the comfort of the kitchen and using their own equipment.
Patient acceptance: the patient receiving the first few meals of PKT was in a much more relaxed and comfortable atmosphere at home than in a hospital room with unfamiliar noises and surroundings.
These observations were similar for both pediatric PKT patients and adult PKT patients.
PKT Telehealth After COVID
No one knows what life after COVID will be like, we do know that it will not be like life in 2019 or 2020. During 2020, we learned to do many things differently. While some of those "new ways of doing things" we want to stop, others we found are better and we want to continue. PKT telehealth is a perfect example; the secure zoom rooms of UF Health work well, new approaches are being developed to measuring height, weight, and vitals in the home. All the participants continue to see the value of telehealth by eliminating travel, increasing patient comfort, improving recipe preparation, and improving the patient's acceptance to PKT. Another benefit is accessibility, more patients were being seen more frequently as a result telehealth provided more equal accessibility to care.
The future of PKT telehealth will evolve as new devices are developed, payor plans for telehealth are finalized and evidence-based healthcare guidelines improve.  We will strive to provide the latest PKT telehealth procedures for families on our website at /pkt-for-families/PKT Process Lean more button 
References:  
Kossoff, E. H., et al. (2020). "Ketogenic diet therapy provision in the COVID-19 pandemic: Dual-center experience and recommendations." Epilepsy Behav 111: 107181.

Wirrell, E. C., et al. (2020). "Care Delivery for Children With Epilepsy During the COVID-19 Pandemic: An International Survey of Clinicians." J Child Neurol 35(13): 924-933.

 
Authors:
Peggy Borum, Professor
Julie Barber, Editorial Assistant